He has given us a nail ... Ezra 9:8
Receive this free book upon registration!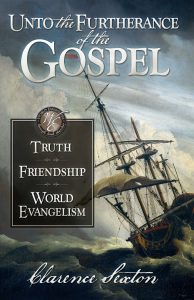 The Baptist Friends meeting is an opportunity to rally together around the truth of God's Word and be encouraged to labor together as friends to evangelize the world.
Unto the Furtherance of the Gospel sets forth God's mission for His people. We will mail a copy to you for free when you register to attend the meeting!









All of us know that we need the intervention of Almighty God in our daily lives, in our homes, and in our nation, but how does the Lord do His work in the world?
God works through a faithful remnant. A remnant is not just what is left. It is what God uses. God is looking for a remnant to do His work.
God's message through Ezra rings through the centuries calling His people to devoted lives of faithful obedience  in the midst of conflict, discouragement, and opposition.
Today we need the hand of God and the help of God for the work we have to do. Just as the Lord stirred up the spirit of Cyrus (Ezra 1:1), He can stir up the hearts of the leaders of our day.
We are the servants of the God of heaven and earth. (Ezra 5:11) As Ezra prepared his heart to study the Word of God, to do it and to teach it, so must we.
In the course of our life, we reach pivotal moments. Our hearts are grieved by all that is going on during our watch in this country and in our world. Join with us for these few days as we seek the Lord and ask for His good hand to be upon us.
We are praying for God to begin to do a mighty work, bring revival in our land, and extend God's mercy for a generation or more through this remnant.
1700 W Beaver Creek Dr,
Powell, TN 37849
Email : info@templebaptistchurch.com