The World
Independent Baptist Friends
International Stats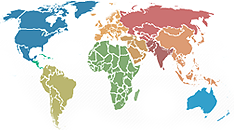 World Population
Total

6,790,000,000

Density 118 people/mi2
Growth

1.14% per year

Children

27.32%

Adult

65.12%

Elderly

7.566%

Annual Births

131,000,000

Annual Deaths

56,600,000
World Religions
Christianity *

33.32%

Islam

21.01%

Hinduism

13.26%

Buddhism

5.84%

Sikhism

0.35%
* Statistics by Wolfram|Alpha. "Christianity" is used in the statistical sense and includes Catholics, Protestants, and true Christians.
Listing in the World
Displaying 1-50 of 16,616 in the World
Disclaimer: This directory is designed to serve only as a listing of Independent Baptist churches and ministry resources. It is not an endorsement of any particular ministry. Learn More »
International means that it involves more than one nation or country. The term international as a word means involvement of, interaction between or encompassing more than one nation, or generally beyond national boundaries. For example, international law, which is applied by more than one country over the world, and international language which is a language spoken by residents of more than one country. In American English, "International" is also commonly used as a euphemism for "foreign" or even "foreigner."