Asia
Independent Baptist Friends
Asia
Countries 52
People Groups 7512
Land Area 18,830,000 mi2
Population
Total

4,330,000,000

Density 242 people/mi2
Growth

1.13% per year

Median Age

26.6 yrs

Annual Births

76,900,000

Annual Deaths

29,800,000
* Statistics by Wolfram|Alpha. "Christianity" is used in the statistical sense and includes Catholics, Protestants, and true Christians.
Listing in Asia
Download Continent Card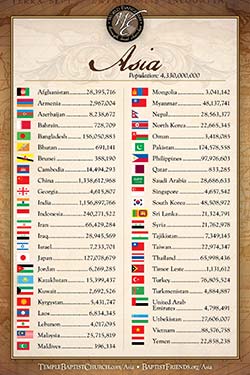 Countries in Asia
Afghanistan

Armenia

Azerbaijan

Bahrain

Bangladesh

Bhutan
Brunei Darussalam

Cambodia

China
Christmas Island

Cocos Keeling Islands

East Timor

Georgia

Hongkong

India
Indonesia

Iran

Iraq

Israel

Japan

Jordan

Kazakhstan

Kuwait

Kyrgyzstan
Laos

Lebanon

Macau

Malaysia

Maldives

Mongolia

Myanmar

Nepal

North-korea

Oman

Pakistan

Philippines

Qatar

Russia

Saudi Arabia

Singapore

South-korea

Sri Lanka
Syria

Taiwan

Tajikistan

Thailand

Turkey

Turkmenistan

United Arab Emirates

Uzbekistan
Viet Nam

Yemen
Asia is the world's largest and most populous continent, located primarily in the eastern and northern hemispheres. It covers 8.6% of the Earth's total surface area (or 29.9% of its land area) and with approximately 4 billion people, it hosts 60% of the world's current human population. During the 20th century Asia's population nearly quadrupled.
Asia is traditionally defined as part of the landmass of Eurasia-with the western portion of the latter occupied by Europe-located to the east of the Suez Canal, east of the Ural Mountains and south of the Caucasus Mountains (or the Kuma-Manych Depression) and the Caspian and Black Seas. It is bounded on the east by the Pacific Ocean, on the south by the Indian Ocean and on the north by the Arctic Ocean. Given its size and diversity, Asia - a toponym dating back to classical antiquity - is more a cultural concept incorporating a number of regions and peoples than a homogeneous physical entity. The wealth of Asia differs very widely among and within its regions, due to its vast size and huge range of different ethnic groups, cultures, environments, historical ties and government systems.
Asia has been the historical birthplace of all major world religions.
Sources