Africa
Independent Baptist Friends
Africa
Countries 56
People Groups 3752
Land Area 11,710,000 mi2
Population
Total

1,030,000,000

Density 91 people/mi2
Growth

2.34% per year

Median Age

18.6 yrs

Annual Births

32,800,000

Annual Deaths

12,700,000
* Statistics by Wolfram|Alpha. "Christianity" is used in the statistical sense and includes Catholics, Protestants, and true Christians.
Listing in Africa
Download Continent Card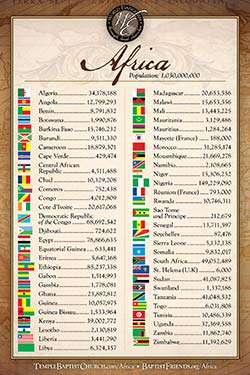 Countries in Africa

Algeria
Angola

Benin

Botswana

Burkina Faso

Burundi

Cameroon

Cape Verde
Central African Republic

Chad

Comoros

Congo

Cote D Ivoire
Djibouti

Egypt

Equatorial Guinea

Eritrea

Ethiopia

Gabon

Gambia

Ghana

Guinea

Guinea Bissau

Kenya

Lesotho

Liberia

Libyan Arab Jamahiriya

Madagascar

Malawi

Mali

Mauritania

Mauritius

Mayotte

Morocco

Mozambique

Namibia

Niger

Nigeria

Reunion

Rwanda

Sao Tome

Senegal

Seychelles

Sierra Leone

Somalia

South Africa

St. Helena

Sudan

Swaziland

Tanzania

Togo

Tunisia

Uganda

Western Sahara

Zambia

Zimbabwe
Africa is the world's second-largest and second most-populous continent, after Asia. At about 11.7 million square miles, including adjacent islands, it covers 6% of the Earth's total surface area and 20.4% of the total land area. With 1.03 billion people in 61 territories, it accounts for about 14.72% of the world's human population.
The continent is surrounded by the Mediterranean Sea to the north, both the Suez Canal and the Red Sea along the Sinai Peninsula to the northeast, the Indian Ocean to the southeast, and the Atlantic Ocean to the west. The continent has 54 sovereign states, including Madagascar, various island groups, and the Sahrawi Arab Democratic Republic, a member state of the African Union whose statehood is disputed by Morocco.
Africa straddles the equator and encompasses numerous climate areas; it is the only continent to stretch from the northern temperate to southern temperate zones. The African expected economic growth rate is at about 5.0% for 2010 and 5.5% in 2011.
Sources