Evangelizing America's Small Towns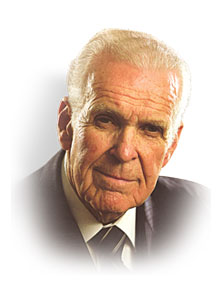 "And he said unto them, Let us go into the next towns, that I may preach there also: for therefore came I forth." Mark 1:38
Shortly before he went to heaven, Dr. Lee Roberson asked me to do something for him. Of course, I told him I would do anything he asked me to do. He said, "Remind people to evangelize the small towns of America. They have been forgotten."
Some of the leaders most greatly used of God came from small towns. Dr. Roberson himself came from English, Indiana - a small town across the Ohio River from Louisville, Kentucky.
We must begin with prayer. Would you enlist to join us in praying along with supplying the name of a small town for which you have a burden? We want to connect people who are praying and laboring to bring the gospel of Christ to the same town.
Send us an email and include as much information as possible about the small town for which you are burdened.
| | | |
| --- | --- | --- |
| City | State | Population |
| San Carlos City | California | 27,165 |
| Benicia City | California | 27,159 |
| Trotwood City | Ohio | 27,138 |
| Rosenberg City | Texas | 27,136 |
| Lancaster City | Texas | 27,082 |
| Saratoga Springs City | New York | 27,014 |
| Plum borough | Pennsylvania | 26,985 |
| Suisun City City | California | 26,979 |
| Melrose City | Massachusetts | 26,963 |
| Lake Jackson City | Texas | 26,954 |
| Shoreview City | Minnesota | 26,935 |
| Millville City | New Jersey | 26,917 |
| Atascadero City | California | 26,912 |
| Rahway City | New Jersey | 26,909 |
| Glen Cove City | New York | 26,886 |
| Laramie City | Wyoming | 26,885 |
| Gladstone City | Missouri | 26,778 |
| Paradise town | California | 26,743 |
| Emporia City | Kansas | 26,739 |
| Maywood village | Illinois | 26,728 |
| Ocoee City | Florida | 26,719 |
| East Cleveland City | Ohio | 26,652 |
| Winona City | Minnesota | 26,537 |
| Aventura City | Florida | 26,499 |
| Delaware City | Ohio | 26,469 |
| Slidell City | Louisiana | 26,466 |
| Hobart City | Indiana | 26,464 |
| Salisbury City | North Carolina | 26,444 |
| LaGrange City | Georgia | 26,424 |
| Winter Haven City | Florida | 26,422 |
| Algonquin village | Illinois | 26,362 |
| El Paso de Robles (Paso Robles) City | California | 26,358 |
| Helena City | Montana | 26,353 |
| Newport City | Rhode Island | 26,312 |
| Clearfield City | Utah | 26,309 |
| Paramus borough | New Jersey | 26,275 |
| Vicksburg City | Mississippi | 26,226 |
| Bergenfield borough | New Jersey | 26,215 |
| Paris City | Texas | 26,212 |
| Oakley City | California | 26,206 |
| Englewood City | New Jersey | 26,159 |
| Jeffersontown City | Kentucky | 26,156 |
| Prescott Valley town | Arizona | 26,151 |
| Easton City | Pennsylvania | 26,139 |
| Lake in the Hills village | Illinois | 26,125 |
| Marshalltown City | Iowa | 26,102 |
| Medina City | Ohio | 26,082 |
| New London City | Connecticut | 26,068 |
| Burlington City | Iowa | 26,048 |
| Aiken City | South Carolina | 26,047 |
| Hazelwood City | Missouri | 26,042 |
| Mount Pleasant City | Michigan | 26,018 |
| Pascagoula City | Mississippi | 25,990 |
| Tooele City | Utah | 25,959 |
| Freeport City | Illinois | 25,929 |
| Cookeville City | Tennessee | 25,901 |
| Prattville City | Alabama | 25,867 |
| Eureka City | California | 25,866 |
| Norco City | California | 25,838 |
| Castle Rock town | Colorado | 25,826 |
| Ponca City City | Oklahoma | 25,796 |
| Maple Heights City | Ohio | 25,794 |
| Maryland Heights City | Missouri | 25,782 |
| Middletown City | New York | 25,775 |
| New Castle City | Pennsylvania | 25,708 |
| Anderson City | South Carolina | 25,690 |
| San Jacinto City | California | 25,689 |
| Mason City | Ohio | 25,656 |
| Vestavia Hills City | Alabama | 25,653 |
| Banning City | California | 25,590 |
| Watertown City | New York | 25,581 |
| Paducah City | Kentucky | 25,577 |
| Schererville town | Indiana | 25,576 |
| Lawrenceville City | Georgia | 25,576 |
| Spring Valley village | New York | 25,573 |
| Grandview City | Missouri | 25,542 |
| Royal Palm Beach village | Florida | 25,490 |
| Zanesville City | Ohio | 25,447 |
| Dolton village | Illinois | 25,438 |
| Hilliard City | Ohio | 25,352 |
| Dodge City City | Kansas | 25,345 |
| Ridgecrest City | California | 25,332 |
| College Park City | Maryland | 25,320 |
| Shakopee City | Minnesota | 25,316 |
| Batavia City | Illinois | 25,281 |
| Key West City | Florida | 25,273 |
| Winter Park City | Florida | 25,260 |
| Columbus City | Mississippi | 25,252 |
| SeaTac City | Washington | 25,233 |