Europe
Independent Baptist Friends
Europe
Countries 47
People Groups 1656
Land Area 2,304,000 mi2
Population
Total

595,000,000

Density 265 people/mi2
Growth

0.223% per year

Median Age

40.1 yrs

Annual Births

5,790,000

Annual Deaths

6,210,000
* Statistics by Wolfram|Alpha. "Christianity" is used in the statistical sense and includes Catholics, Protestants, and true Christians.
Listing in Europe
Download Continent Card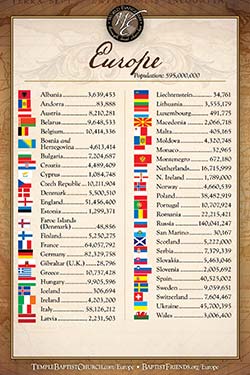 Countries in Europe

Albania

Andorra

Austria

Belarus

Belgium

Bosnia

Bulgaria

Croatia

Cyprus

Czech Republic

Denmark

Estonia

Faroe Islands

Finland

France

Germany

Gibraltar

Greece

Hungary

Iceland

Ireland
Italy

Latvia

Liechtenstein

Lithuania

Luxembourg

Macedonia

Malta

Moldova

Monaco

Montenegro

Netherlands
Norway

Poland
Portugal

Romania

San Marino

Serbia

Slovakia
Slovenia

Spain

Svalbard And Jan Mayen Is...

Sweden

Switzerland

Ukraine

United Kingdom

Vatican City
Europe is one of the world's seven continents. Comprising the westernmost peninsula of Eurasia, Europe is generally divided from Asia to its east by the water divide of the Ural Mountains, the Ural River, the Caspian Sea, the Caucasus region and the Black Sea to the southeast. Europe is bordered by the Arctic Ocean and other bodies of water to the north, the Atlantic Ocean to the west, the Mediterranean Sea to the south, and the Black Sea and connected waterways to the southeast. Yet the borders for Europe - a concept dating back to classical antiquity - are somewhat arbitrary, as the term continent can refer to a cultural and political distinction or a physiographic one.
Europe is the world's second-smallest continent by surface area, covering about 2,304,000 square miles or 2% of the Earth's surface and about 6.8% of its land area. Of Europe's approximately 50 states, Russia is the largest by both area and population (although the country has territory in both Europe and Asia), while the Vatican City is the smallest. Europe is the third-most populous continent after Asia and Africa, with a population of 595 million or about 11% of the world's population.
Europe, in particular Ancient Greece, is the birthplace of Western culture. It played a predominant role in global affairs from the 16th century onwards, especially after the beginning of colonialism. Between the 16th and 20th centuries, European nations controlled at various times the Americas, most of Africa, Oceania, and large portions of Asia. Both World Wars were largely focused upon Europe, greatly contributing to a decline in Western European dominance in world affairs by the mid-20th century as the United States and Soviet Union took prominence. During the Cold War, Europe was divided along the Iron Curtain between NATO in the west and the Warsaw Pact in the east. European integration led to the formation of the Council of Europe and the European Union in Western Europe, both of which have been expanding eastward since the fall of the Soviet Union in 1991.
Sources