North America
Independent Baptist Friends
North America
Countries 37
People Groups 1269
Land Area 8,920,000 mi2
Population
Total

538,000,000

Density 59 people/mi2
Growth

1.03% per year

Median Age

29.8 yrs

Annual Births

8,610,000

Annual Deaths

3,770,000
* Statistics by Wolfram|Alpha. "Christianity" is used in the statistical sense and includes Catholics, Protestants, and true Christians.
Listing in North America
Download Continent Card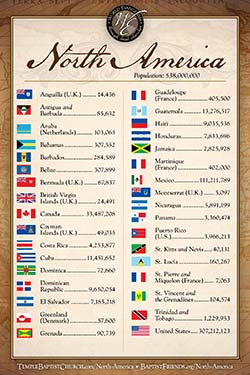 Countries in North America

Anguilla

Antigua
Aruba

Bahamas

Barbados

Belize

Bermuda

Canada

Cayman Islands
Costa Rica

Cuba

Dominica

Dominican Republic

El Salvador

Greenland

Grenada

Guadeloupe

Guatemala

Haiti

Honduras

Jamaica

Martinique

Mexico
Montserrat

Netherlands Antilles

Nicaragua

Panama

Puerto Rico

Saint Kitts And Nevis

Saint Lucia

Saint Vincent And The Gre...

St. Pierre And Miquelon

Trinidad

Turks And Caicos Islands

United States

Virgin Islands British

Virgin Islands U.s.
North America is the northern continent of the Americas, situated in the Earth's northern hemisphere and in the western hemisphere. It is bordered on the north by the Arctic Ocean, on the east by the North Atlantic Ocean, on the southeast by the Caribbean Sea, and on the west by the North Pacific Ocean; South America lies to the southeast of the continent.
North America covers an area of about 8.92 million square miles, about 4.8% of the planet's surface or about 16.5% of its land area. The population is estimated at nearly 538 million people. It is the third-largest continent in area, following Asia and Africa, and the fourth in population after Asia, Africa, and Europe.
Sources